Agri Tales
Alma Jordan, founder of the award-winning social enterprise AgriKids, has recently published a new book, with a second in the same series hitting the shelves on March 2nd for World Book Day. Here, we talk to Alma about her passion for education and farming
Alma spent her childhood on a beef and tillage farm in Kildare and she currently lives on a farm in Meath with her husband and son. She is best known in the farming world for her farm safety education platform, AgriKids, which she set up in 2014 in response to the high number of farm accidents recorded that year and, heartbreakingly, the deaths of two young children on a farm: "I was so upset for the families that I wanted to make sure we were doing our bit when it came to safety."
AgriKids is aimed at schoolchildren and offers training, interactive games, workshops and school talks for a classroom setting. "We engage, we educate and empower kids to be farm safety ambassadors."
It has been a labour of love for Alma and her efforts have been acknowledged in numerous ways: she has won a host of awards including a Social Entrepreneurs Ireland Award, a Network Ireland Business Woman of the year and an All Star Female Led Business award.
Brave move
Alma has also written and self-published books which offer key safety themes within the storylines. "I got a D in English in my Leaving Cert - I never thought I'd become an author. As a child, I was your quintessential Enid Blyton and Roald Dahl fan. I liked stories with a little bit of magic; I was a daydreamer and writing books now is putting my daydreams down on paper."
Alma's self-published books attracted the attention of O'Brien Press and she began working on a project with the publishing company aimed at children aged 10 and over. "My books are a tool to encourage kids to keep reading, but I have always wondered why there aren't more farming themed books for kids beyond toddler age. And, for a long time, I've been passionate and curious about the disconnect around agriculture I believe we have in Ireland. There isn't a good understanding about what farmers do. So, during Covid, I tried my hand at farm stories for children aged 10+. They are partly based on my own farm life as a kid in Kildare. I want them not just to appeal to farm children, I want all kids to read and appreciate the books. I like to think that we could open the eyes of other kids to what life on a farm is like and maybe even encourage them to take up agriculture as a career."
Blue the Brave is the first book published within this series. Illustrated by Margaret Anne Suggs, the book tells the story about Peter Farrelly who is hard at work training sheepdog Blue for the trials at the Ballynoe Fair, while Kate – who wants to be a vet like her mam – is busy with her cheeky pet hen, Hettie. "The characters are all personal to me. Peter and Kate are the two main characters, and the names come from my grandparents." The book was published in February 2023 and another book is due out in March to coincide with World Book Day. "I was on holiday in Disneyland last June – the first time out of the country as a family in years – and I got a call from O'Brien about World Book Day; they said they'd love for my book to be involved and they wanted me to write another book! I went straight to the souvenir shop and bought a Mini Mouse pen and a Lion King notebook and began the outline for the forthcoming Hazel Tree Farm book - One Stormy Night. This is the prequel to Blue the Brave and sets the scene and background for the characters." Alma adds that there will be a third book in the autumn.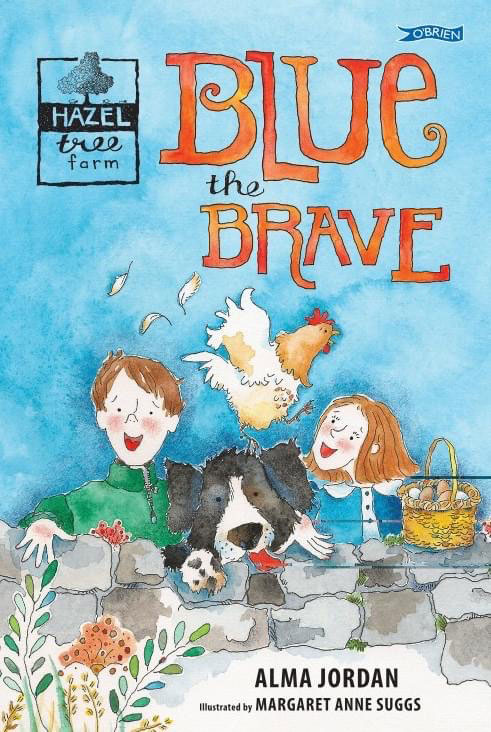 Telling the farmer's story
Showcasing Irish farming life and encouraging interest in agriculture is at the heart of Alma's storytelling: "I would love to see this series inspire children to read, while also giving a platform to Irish farming. Some of the best workshops we have held have been in urban schools. In no way was their interest dulled by not being on a farm. I am hoping that we can talk about farming in a way that's more positive, because, as farmers, we need to talk about what we do, how we do it, and why we do it. We need to reconnect. We're good at farming, but we need to be better at safety."
Agrikids Calendar
Alma has a full schedule for the year ahead:
"I am actually booked out for the rest of the year. I am visiting all the schools and preschools to award them as AgriKids safety ambassadors. I am also part of the Safe Habitat project, led by Teagasc, which will run for the next four years, and we are investigating how to improve farm safety on a European level. AgriKids is the only child-centric safety programme on a European level. And I will be out and about at shows over the summer. The work I do is for farm families and I want it to be available to as many people as possible, but it is limited by me. I am hoping to get sponsors on board again and get better structures in place beyond me to build and grow."