Global ambition, local focus
DR MARK LYONS, PRESIDENT AND CEO of animal nutrition and health company Alltech, views Ireland as a crucial market in the drive to create a more sustainable global agri-food industry. Here, he discusses the unique advantages our farmers have when it comes to building the farm of the future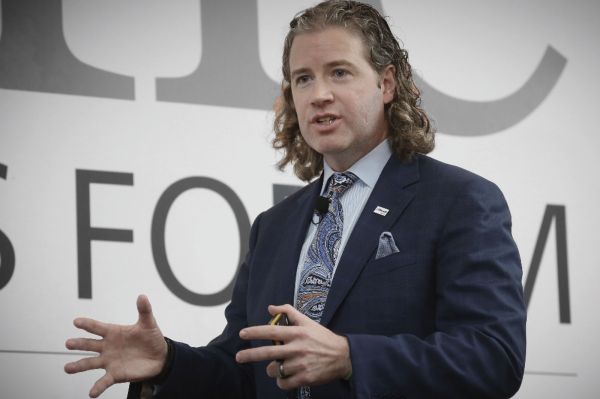 DR MARK LYONS, PRESIDENT AND CEO of animal nutrition and health company Alltech, views Ireland as a crucial market in the drive to create a more sustainable global agri-food industry. Here, he discusses the unique advantages our farmers have when it comes to building the farm of the future
While Irish dairy farmers battle to face rising costs and sustainability pressures, the narrative in mainstream media around curtailing production continues. CEO of Alltech, Mark Lyons, is clear in his message here: "It is so important that we continue to produce dairy in Ireland, in a place where we are very efficient producers. If we don't produce dairy – or beef – here, we are going to be doing it in places that are not nearly as efficient. Irish products are high quality, we have the traceability, and I would say we have a good track record of being able to adopt new technologies."
Not only does Mark believe Ireland is the ideal location to produce dairy, but he also believes we are well positioned to showcase best practice and innovation to a global audience: "There is an opportunity for us to create examples here that can be utilised elsewhere – the numbers are smaller in Ireland (compared to other countries) – the scale is smaller – so, it can be much easier to manage research here and it can have an outsized impact globally.
"We view Ireland as a really powerful place for us to continue our research – we can use Ireland as an example for other places, to see it as best practice, to create new business models. We see our role as advocating for the industry to consumer and to government; but also urging the industry forward, to say that we can do things in a more efficient way and there is a huge amount of innovation here. If you look around the globe, it is clear – if we don't produce food here, I'm not sure where we should be producing food."
Planet of Plenty
Alltech's 'Planet of Plenty' is more than just a mission statement – it is an initiative that puts science, collaboration and innovation to the fore of Alltech's work: "The Planet of Plenty is a really good umbrella to bring together all of what we do. Our industry is one of two industries that can actually capture carbon as part of our primary function and what's been really exciting is to see some of those practical examples of this in action. We presented some of these examples at the ONE Conference last year – such as a beef operation that's capturing 50 per cent more carbon than it's emitting, where we're actually capturing more carbon with animals on the land. This [work] is starting to create bit more of an image of the future of agriculture. We need to be thinking about the whole ecosystem, so that's been really exciting and with Tara McCarthy (former CEO at Bord Bia) joining us, we can see how we can showcase Ireland within the Planet of Plenty story."
Mark stresses that collaboration is key: "We have to be thinking as one industry and thinking about the whole system. In Ireland, there is a lot of collaboration already and I think the challenges in front of us are a galvanizing force."
Focusing on sustainable goals for the industry, he adds, however, must make sense from an economic point of view for the farmers. "This needs to go hand-in-hand with improved economics for farmers – if we don't deliver on that it won't be sustainable."
Alltech's work
Discussing the work underway at Alltech, Mark explains: "It is really varied. In certain cases we are creating projects with research institutions; in other cases we're working directly with the farmer; and in other cases we're working with processors. There is no 'one size fits all'. For example, we have found some leading dairy processors who want to really work with their producer base and we might have a technology today that we can implement, or we might think about what do we need to develop. The science underpins everything, then that builds out the sustainability, and then we roll it right out to the storytelling, because if we don't tell the story properly – and we don't have the marketing and the communications – it's all for nothing. "The ideal thing is that we create efficiencies at farm level, which produce higher profits and create something that is tangible [for the customer] – maybe this is a beneficial nutritional component or maybe it is an environmental credential that could be told as part of their story."
Technological and scientific advances
Commenting on the technological and scientific innovations shaping the future of our agricultural industry, Mark notes: "Traditionally, when we bring out new technologies, Irish farmers tend to be much more open to them than other markets; so, once again, I think the Irish market is crucial for creating these examples that that could be rolled out and used elsewhere."
He says that one of the most exciting things Alltech has done this year is acquire a business called Ideagro in Spain. The company has a team of over 20 scientists spearheading agri-food research and development in the industry. "Essentially, what they do is they identify microorganisms [in soil] that may have interesting properties, such as microorganisms that might be able to provide us with better nitrogen uptake
in soils, for example," he says.
Antimicrobial resistance is another area of importance, says Mark. "The team has done tremendous work on this. What we're finding is that removing antibiotics doesn't actually reduce the resistance level; our programme, which we've been able to put out on farms, is creating a competitive landscape that the actual resistance in these bacterial populations shifts; any gene like this takes a little bit of energy to be passed on to the next generation – we're creating a competitive scenario where we're actually selecting for that resistance and they're the ones that are surviving and passing on their genes."
ONE – on the road
Alltech's ONE event is usually held in Kentucky each year, however this year it will be broken up into a range of smaller events around the world: "We thought that this year we could take that the ONE message out on the road and do something different and a bit more local. I think it will allow us to delve a little deeper, to dig down into the different challenges and opportunities in each country." The event will move around locations throughout the year such as Budapest, Minneapolis and Dubai and the Irish event will take place on June 19 and 20 in Croke Park. Over 500 invitees from across the globe are expected to attend the Irish event – expect sustainability, fuel, and economic and political uncertainties to be among the key topics.
Job cuts at Keenan
The announcement by Alltech of up to 50 redundancies at Carlow-based agri-machinery manufacturer, Keenan, hit the headlines recently but Mark stresses that his aspiration for Keenan remains the same as it was when Alltech first bought up the company: "It is focused on innovation. But because the culture of Alltech and Keenan were quite similar, I think we probably didn't go in and make as many of the changes as we should have done early on. We had a tremendous year as a global company in 2021 – and it was obviously because we're all geniuses! And, in 2022 it was much more difficult – and that was obviously because of the invasion in Ukraine and all this other stuff that wasn't our fault. But that is nonsense, right? You really have to isolate the business and see how it is performing. I would say we've seen other businesses where we immediately jumped in and started to change the structure and change the way that the business went to market.
"With Keenan, I don't think we made those changes. It's been a business we have supported – we have brought Keenan all around the world – and there is a lot of innovation with InTouch, which is really the backbone of what we do at Alltech. But now it's about getting to the place we should have got to sooner; getting our hands around it. There is still ambition there, but it's about getting more involved and making those structural changes that were maybe required a few years ago."