'I am a price setter now'
The Scully family run an organic farm and gluten-free milling company in Co. Laois, with an online shop selling the 'oats' of their labour directly to consumers. The Merry Mill is an example of diversification overcoming difficulty, ambition overcoming adversity, and hard work overcoming hard times. Bernie Commins spoke to founder and director of The Merry Mill, Kevin Scully about marrying the old and new in a sustainable and progressive way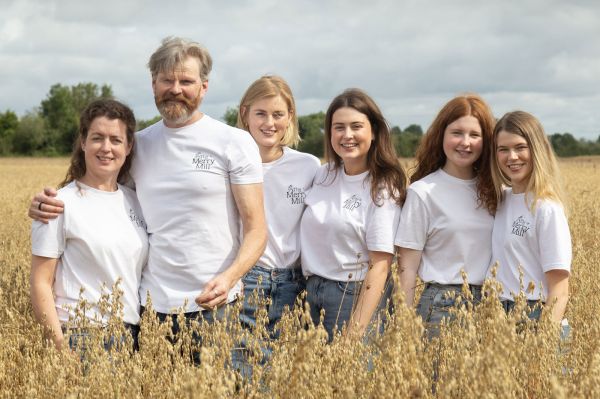 Later this month, The Merry Mill will fly a solo Irish flag at the European Organic Awards 2023, having been shortlisted in the 'best organic food processing small-to-medium-sized enterprise (SME)' category. This is a huge achievement considering how much Ireland lags behind in terms of organic farming. Currently, only about 2.5 per cent of utilisable agricultural area is organically managed, compared to a European average of 8.5 per cent. According to Eurostat figures released in June this year, Ireland holds the third-lowest percentage in Europe for organic agriculture, just ahead of Bulgaria and Malta. The area is growing but the pace is slow. 
So this award, specifically, is meaningful for The Merry Mill: "We are such a small player on the organic stage in Europe, that to get recognition for Ireland for our little operation, it is great," says Kevin.
"And it is completely on merit, there is no cost to us to enter, unlike other awards, this one is purely recognition for how we farm and how we produce our product.
"We don't chase awards because our award is the feedback from our customers and our customer loyalty."
The Merry Mill journey
That strong customer loyalty has been in the making since 2015 when Kevin founded The Merry Mill alongside his wife and business partner, Jenny. It is located on Kevin's family farm in Co. Laois; 99 acres, which he inherited after his father died and which he set about converting to an organic system in 2002.
"I was born onto a mixed tillage/drystock farm, and when I took over the farm after my father died, we were predominantly in conventional tillage at that stage," Kevin explains. Over the course of his earlier travels around the world, Kevin had seen various food-production systems, and witnessed people making a living off small plots of ground. "I felt that I had good plot of good-quality ground here, I should be able to make a living too. But I was working on the buildings at the time – I am a carpenter by trade – and I always felt a little disappointed in myself that I couldn't make a living off the land," he says.
An initial entrepreneurial venture, which involved manufacturing mobile crush units did not work out. "But as they say, failures are just steppingstones," he comments. "And there was good business learning from that," he adds. That steppingstone brought him and his family to the start of The Merry Mill journey. "I had two bright ideas at the same time, back in around 2015, to start a herd of Wagyu, and to produce porridge oats." The latter of these ideas led to the construction of a gluten-free micro mill on the farm, a project that involved significant research and travel, and investment. "We had to travel around Europe to look for the equipment we needed. There are no micro mills in Ireland now. Back 100 years ago, there was a mill within close proximity to most farms, now there is only a handful of mills in the country, and the vast majority are industrial." Kevin travelled to countries such as Germany and Austria to see what other micro-millers were doing there, sourced the relevant equipment, and the family set about building Ireland's first organic, gluten-free oat mill.
A decision to launch at Bloom followed by a chance encounter there with a presenter from national television programme, Ear to the Ground, led to The Merry Mill featuring on said programme. This laid down several more significant steppingstones and the Scullys haven't looked back.
Kevin and Jenny's management of their 45-head Wagyu herd is an excellent example of farming in an environmentally friendly and sustainable manner. Kevin explains: "They [cattle] use up all the spent grain, and we compost the straw into dung, so they are almost like a by-product of my milling operation. It is very sustainable. Then, Brendan Guinan, from Fiorbhia Farm, buys the animals when finished, and the meat is sold directly by him." Check out www.fiorbhiafarm.ie for more info.
The Wagyu herd is an ideal complement to Kevin's milling enterprise, he says: "The real beauty for me is that they are so easy to calf, they don't need much maintenance, you are not up all night watching them. So that is a huge advantage when you are running a busy mill that you are not losing time. I would never be up at night watching cows calving. That has been a real advantage.
"They are slower maturing [than conventional breeds]. A Wagyu would need about 30-36 months to mature but that suits me, and I have a low stocking number. They fit me well, and are quite docile. They are a very nice animal.
"In Japan, they massage them and I'm sure mine are wondering when is that going to start happening?" he laughs.
"While they are almost a by-product of everything else that I am doing, I'd say there is definitely a real business opportunity there soon, especially for premium, organic Wagyu beef. This is the most premium beef in the world, so my thinking is that you might as well feed a really good animal as poor animal." Watch this Wagyu space!
Old meets new
Very much a family-farming enterprise – the couple's four daughters Sadbh, Aoife, Róisín and Niamh are involved in various capacities – The Merry Mill sees the Scully family grow, harvest, mill, pack, and deliver their oat products. These comprise organic, gluten-free porridge oats, of course, as well as an organic, gluten-free bread mix, organic, gluten-free oat flour, an organic, gluten-free pancake flour and organic, gluten-free overnight oats. They sell these products, and other complementary products, via their online shop, to customers around the world.
The Merry Mill operates a cold-milling process, which means that there is no heat involved at any stage of this traditional milling method. "It means that all the live enzymes in the oats are still alive at the end of the process, so it is a stronger-flavour product, it is creamier and healthier. It is a different product [to conventional porridge oats]," explains Kevin. This was a conscious decision, he says. "I had done a good bit of research into oats, and had read about cold milling and the live enzymes. Years ago, when the old stone mills were running, it was a healthier product [that was produced]. The stone mills run slower and they don't heat the product when milling. The oats had a higher nutritional value [back then].
"We invested in the stone mill for these reasons. The mill we bought was from a company in Austria. It is modelled on the old water mills so everything runs at a  slow pace and it will never heat the grain when milling."
The Merry Mill certainly isn't reinventing the wheel, but this is old-meets-new approach has delivered for the Scullys in more ways than they had imagined – and in one very unusual way, indeed.
Kosher gluten-free harvest
Matzo crackers may not be common fayre in Ireland, but this simple flour-and-water creation is a staple of the Jewish diet during Passover. This is one of the most important religious holidays in the Jewish calendar, and for the last four years, The Merry Mill has played an important role in it.
This year marks the fourth consecutive gluten-free oat crop that Kevin has grown and harvested according to kosher standards to produce these special crackers that are distributed all over Europe.
"We do Europe's only gluten-free kosher harvest for Passover," Kevin explains. "We have a contract with an entity in Jerusalem for this," he adds. The oats that make the flour for these crackers must be grown and harvested according to strict kosher standards. Ensuring that the harvest is managed in accordance with strict criteria, three rabbis recently travelled to Kevin's farm to oversee the 'watched harvest' as it is known. "They are looking for oats that are single-sourced, single-origin, certified-organic, certified gluten-free, and grown in a quiet part of the world," says Kevin. The Merry Mill – unintentionally – ticks all these boxes.
"They [the rabbis] come to me and stay with me until it is harvested, milled and packed and then we put it into a 40-foot shipping container, and we send 20 tonnes of it back to Jerusalem.
"When we did the deal [for the production of the kosher oats], the rabbis told us that only ourselves and a farmer in Montana were compatible with the requirements of that harvest," Kevin explains. Geography, among other favourable farming practices, swung it for the Scullys. "This is our fourth year with them and they have doubled their orders every year." This has led to Kevin entering into a farming partnership to access additional land to grow more oats, and he has relocated his Wagyu herd there too. The kosher oat contract has also aided a recent expansion of The Merry Mill's mill.

Organic opportunities
As mentioned, Ireland lags behind the rest of Europe in terms of organic farming, although it is moving in the right direction with increased funding available under the new Common Agricultural Policy. That, and the rise in feed and fertiliser costs have spiked the interest among some farmers here, encouraging them to convert. According to Teagasc, there are more than 4,000 organic farmers in the country including just over 2,000 who entered conversion – a two-year process – in January 2023. According to Bord Bia, the organic retail food market in Ireland is now worth over €260m annually, and Ireland's organic reputation abroad is strong.
"I think it is mad [that more aren't involved in organic farming] because there are huge opportunities there, even just coming from the perspective of our little operation. We have companies coming to us and putting in huge orders, and offering big money but we can't fill them, we have to grow at our own pace. These are global companies," Kevin says. Interestingly, he has discovered that there is a widely held belief that Ireland, generally, operates an organic farming system. "We ship to customers in the US and they believe that Ireland is an organic country. There is strong demand for quality produce and there is a perception there that Ireland is the leader in premium products." This, he agrees, is down to a lot of the groundwork laid by the likes of Kerry and Ornua. "They have a lot of the work done, so it is easy to sell into those world markets," said Kevin.
Beetles dung good
There is a very important member of Kevin's farming crew that works tirelessly, takes a lot of 'crap' and does an outstanding job of keeping the soil and animals healthy. We are, of course, talking about the dung beetle. Kevin's organic system is a happy haven for these wondrous creatures where drinking the juice of dung pats and burying the resulting dried-out remains are all in a day's work.
"The amount of dung beetles we have is incredible. The dung pats are full of them, and they are so valuable," says Kevin. "They are working away like mad, and you know they are there because you see the little dots on top of the cow pats and if you scrape off the crust, it is full of them." According to Teagasc, there are two types of dung beetle in Ireland, the dwellers that live in the pats, and the tunnellers that help to bury the dried out dung into the soil. Among the benefits to farmers are: reduced parasites and flies; better nutrient recycling; soil aeration with tunnellers; and reduced pasture fouling. Kevin adds: "The more of them you have, the less dosing you need, and they are free! That is where we need to be going. That is nature."
Wake-up call
Kevin's farming system is in tune with much of what is being demanded of farmers today in the context of our climate crisis. The positive impact of organic farming on the environment cannot be underestimated.
"There should have been a huge wake-up call after the fertiliser hike last year," says Kevin. "Ireland is highly dependent on chemical fertiliser and if that was taken away in the morning, I believe there would be starvation among the herds. How would we feed the number of cattle we have in Ireland? We are so dependent on it, and the ground is so dependent on it; it is like the land is on drugs. We are highly dependent on imports [fertiliser] and that is a crazy place to be.
"I would say that it took my land a good three to four years to recover from the pounding [with chemical fertiliser] that I had been giving it before its own biodiversity started to get going again, and for all the enzymes in the soil to get back to the levels needed to grow grass."
The organic system of farming sets a great example in terms of grass management and crop management, Kevin says. Lodgings, as experienced in early August by non-organic tillage farmers, were not an issue for Kevin. While the wind and rain gave many crops a battering to the point that they were flattened, Kevin's winter oats did not suffer the same fate.
"On the vast number of organic farms, the crops were still standing," he says. "I cut winter oats recently – it wasn't the highest yield, maybe 1.7t/acre – but it was a lovely crop to cut, it was standing straight up, with none of it down. The joys of that. And then, I have the lower cost of production because I don't need to buy in fertiliser."
Kevin has this advice for anyone considering organics. "You need to take control. Farmers, in general, are price takers. I am a price setter now. If you want to buy product off me, I set the price. The world market means nothing to me. The price that oats are trading at on any day of the week is irrelevant. I set the price at my gate of my produce and if you want to buy it, great and if you don't that is fine. That is a lovely place to be."
He describes the trading of food on a stock market as horrendous: "People in suits making an absolute fortune on the backs of people who are stressed out." But, he adds, getting weighed down over external factors that you have no control over is not a long-term nor is it a sustainable way to live and work. "You have to look at a different way of doing things, a different system where you have some control over the price. What is happening now is like a builder coming in to paint your house, and then you telling him at the end how much you will pay him for doing it. So of course, farmers are getting a bad price, they are the price takers, not the price setters."
He said a middle ground between organic farming and conventional farming is needed because full organic conversion is just 'too far' for some. "There are a lot of farmers who are doing great things, using low chemicals, they are not organic, but they are not too far off, and we need to be rewarding them. We need a middle ground where we are rewarding a low-chemical-input farm, that would be a great step for Ireland."
The price of sustainability
Conversations about what we consume, where it comes from and how much we pay for it are essential now, Kevin agrees. A cheap-food policy will not favour anyone in future, least of all the environment, and Kevin has discovered that people are willing to pay a premium for a premium product: "There is huge support for our product and ours isn't cheap. Well, it's not that it isn't cheap, but everything else is too cheap. What we charge is the price that is required because producing at below cost is not sustainable.
"My business is not sustainable – no matter how green or environmentally friendly I am – if it doesn't pay its way. We now have three full-time jobs where once there were none – all from producing food," says Kevin.
Check out www.themerrymill.ie for more info.

On the menu
As part of the evolution of The Merry Mill, Kevin says that there may be an oat drink product available in future!