Big ambitions from New Holland to pastures old
It is said that the family that plays together stays together. But what of the family that works together? Bernie Commins chatted to Sharon O'Brien, a member of the family behind well-known Cork company, Egmont Agri, about becoming an integral part of the team there, and the ways she is applying all the experience she gained from her time working at one of the foremost machinery companies in the world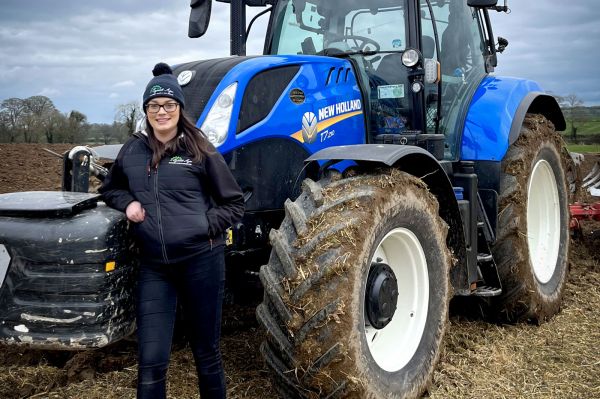 The nature of family business means that knocking off work can often be a challenge, with the conversation of the day ticking over into dinnertime, all the time. "You are always working," says Sharon. "At the dinner table, the conversation is always about work; whenever we go anywhere, we're always talking about work; it's work non-stop," she says, laughing. Growing up, Timmy [her father and Egmont Agri founder] was 'constantly out working, driving machinery, building up the business to what it is today'. Smiling, she adds: "So, we were brought up to be hard-working, we don't know any different."
Egmont Agri is a well-oiled machine comprised of some very important cogs: Timmy, 'who does everything' says Sharon; his wife, Nora, who looks after the accounts; son, Thomas, who manages the day-to-day running of the agri-contracting business; other son, David, who is dairy farming, primarily; and Sharon, who has added another feather to the Egmont cap since she joined the company. Apart from the family unit, the company employs around 10 people, as well as seasonal staff throughout the year.
And for good measure, the family manages 600 acres of tillage, too.
The company has its roots in agricultural contracting, established in 1986 by Timmy – a founding member of the Association of Farm & Forestry Contractors of Ireland (FCI) – with all manners of agri-contracting work as its core activity. But from it has sprouted a very successful machinery importation and distribution business. This unique setup gives Egmont Agri a certain perspective that other machinery companies may not have, Sharon agrees.
"We never thought we would end up in the machinery-selling business, we were always contracting from the get-go," says Sharon. "But, I suppose it is unique and they do work very well together because we use all the machinery that we sell, so we know that it is good quality and stands the test, and does the job that is there to do."
The family business may seem like an obvious destination for Sharon, but she made some pitstops along the way, first at Harper Adams University, and then on to work at one of the biggest machinery companies in the world. Completing an agri-business degree at Harper Adams was a natural progression after school, she says. Not being mechanically minded, her strength lies in the business side of agriculture, machinery sales and contracting, and how they co-exist. While college enhanced and put an official stamp on the valuable experience that she had already gained from the family business, it also opened a door to a dream job.
"I did a four-year course in Harper Adams and during that, I did a one-year placement with New Holland as a brand communications intern for 12 months in a New Holland marketing department doing everything from planning training days for dealers, helping with shows and events, and that kind of thing.
"When I finished my degree in Harper, I actually went back to New Holland for two more years as a demonstration intern going around the UK with a brand-new CX combine, and we travelled all around to different farmers demonstrating that [machine]. Then, I did a second year after that as a brand and events coordinator, I was organising all the shows and events. This was during Covid-19, so there weren't as many events happening, so we were doing a lot more internal work such as creating product videos, and helping the marketing team that way."
In 2014, Egmont Agri became the sole Irish importers and distributors for SaMASZ farm machinery. This is a Polish company that manufactures mowers, rakes and tedders and various other farm and municipal machinery. In 2017, Egmont Agri became the Irish importers and distributors of Metal-Fach, another leading Polish manufacturer of agricultural machinery.
Despite the challenge of Covid-19, Sharon says she really enjoyed her time at New Holland where she learned a great deal, particularly on the machinery-marketing side, which she was able to apply to the family business when she returned home. It really was the dream job.
"New Holland is such a big company to someone like me. We always had their tractors, so to get a chance to have a job with them was the best thing ever," she says.
When Sharon decided to return home, Egmont Agri had just opened a machinery-parts store, which needed a lot of developing. But what it really needed was Sharon!
"I decided to come home and take that under my wing," she says. "We opened it just before Covid, in March 2020. We were selling a lot of SaMASZ mowers, so we needed parts to back up the mowers if there was a breakdown.
"Since then, I developed it by adding more brands to the shop, and having a variety of products in the store. Apart from machinery parts, we now have workwear, lights, we have loads of machinery toys also. I still have to develop it further but it's come a long way in the two years since I've come home."
A stroke of genius
The machinery toys have been a stroke of marketing genius. I mean, what child (big or small) doesn't want their own toy tractor, mower, and trailer?
"After I moved home, I was obviously trying to get more and more ideas for the shop. We work with a company in Tyrone called Killbran Toy Trailers, that develops little bale trailers, and they make little mowers, so we branded them with SaMASZ colours. So, we have little SaMASZ mowers for the children, as well as the adults. They make a little rakes as well so we have a SaMASZ rake available for kids too."
The Polish agricultural machinery company has been well-impressed with this idea, says Sharon. And Timmy? "He never says no to an idea," she laughs. It is this open attitude that led to Egmont Agri's involvement with Polish machinery manufacturers, in a move that has worked well for them.
"We first imported the SaMASZ machines in 2014. My dad kept seeing them at Agritechnica, which he goes to with two of his friends every two years. Eventually, he decided to bring in a set of mowers and we decided to test them out with one of the hardest drivers we have in the yard, and they withstood that test, and we were very pleased with it. So, in 2015 we sold our first set of triples and from then we have been selling a lot, we have over 70 sets of triples out there now."
The chance taken on SaMASZ paid off recently with Egmont Agri winning a number of awards in 2022 at the AGRO Show in Bednary in Poland. There, SaMASZ awarded the company for: being the leader of marketing activities; having the third-highest sales of large forage machinery for seasons 2020/2021 and 2021/2022; and having the third-highest sales increase for seasons 2020/2021 and 2021/2020.
The marketing accolade was a personal highlight for Sharon: "I was very proud of this because we hadn't done very much marketing until I came back home, so it was good to see that we are recognised as doing a lot for them."
Coming down the track
So, what is coming next from Egmont Agri? "SaMASZ is bringing out a merger this year, which is called the Falca, that we are hoping to try out in the summer. The merger is new to SaMASZ and new to us, so it'll be interesting to see how that works out. Hopefully we will have that at The Ploughing this year.
"The Metal Fach machinery, muck spreaders, disc harrows, buckets, and grabs have been going very well for us too," she adds. The build quality and reliability are some of the things that attracted Timmy to the Polish machinery that it stocks and uses in the contracting fleet, too.
"We also have Agrex fertiliser spreaders from Italy, and we have Agro-Masz grass feeders, and we also sell Conor slurry tankers. And, most recently, we have been appointed the main agent for Lipa, which is a range of mulchers for diggers."
At just 26, Sharon is young in her years, but has already amassed a lifetime's experience in the farm-machinery world, in what is the epitome of a family business.